Financial controller
This position is no longer active
Either the position was filled, or the ad has expired.
If you recognize the following competencies in yourself, you know what to do.
Investigative problem-solver
You unravel complex problems via analytical skills, draw conclusions and know what to do for the solution.
Debating communicator
You're able to get people on board, you're a teamplayer and you know how to translate plans and proposals to your surroundings.

Specialistic decision-maker
You're very specialistic in your working field because of in-depth knowledge, you're always able to discover and gather all information needed for the right decision.

Process-oriented deliverer
You set concrete goals and work agile to achieve them, but you're also always on the hunt for improvements and efficiency of own work. You deal well with stressful situations and request support when needed.

Be focused.
Human beings are not designed to perform multiple tasks simultaneously. Being focused on the right matters delivers the greatest results.
Raise the bar.
We play Champions League. It requires the right mindset over skill set in order to reach our full potential.
Be an owner.
Owners take decisions with long term sustainability in mind. We trust people to make their own decisions and feel secure enough to fail in these decisions.
Enjoy the ride.
Our work should give us energy and joy. Because together, we make memories.
Benefits of working here.
27 holidays 🌴
And option to sell or buy 7 days
To find your balance
🧘‍♀️Check out days
🛵 Free Check Rides
To tour the city in the best possible way
Working remotely
For 2 weeks a year
Free drinks, lunch & snacks
At HQ in Amsterdam ❌ ❌ ❌
Mental health coaches
From OpenUp
Get the job done with your team
Workation 🚀
Enjoying the slopes ⛷
during the Check Skitrip
Benefit from Check's Success:
Stock Appreciation Rights
Step 1
Apply using the button on this page
Step 2
If you're fit for the job, we'll give you a call
Step 3
Come over for an interview
Step 4
Show your analytical skills during the Case round.
Sign your offer and become part of Check.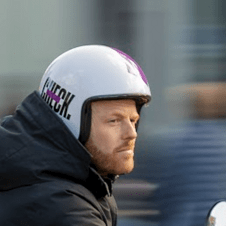 Contact
Paul
Managing Director – General
About Check.
Check is a fast-growing shared mobility platform, providing the easiest way around town. We believe urban mobility can be more efficient and we want everyone in every city to be able to reach their destination within 15 minutes.
We do this by introducing new and smart forms of mobility. Our shared e-mopeds are available in cities throughout The Netherlands and Germany.

Already working at Check.?
Let's recruit together and find your next colleague.